What's cooking in the kitchen design world, you ask? We're here to serve up the hottest trends in kitchen designs for 2023. From the resurgence of classic styles to the dawn of futuristic designs, we have it all on our menu. So, why wait? Grab a cup of coffee, sit back, and let's embark on this journey of discovery together!

Trending Kitchen Designs in 2023: What's Hot and What's Not?

The Rise of Smart Kitchens

The future is now, folks! Smart kitchens have taken center stage in 2023, and they're here to stay. What's a smart kitchen, you ask? Imagine your kitchen appliances interacting with each other, adjusting temperatures, and even suggesting recipes! It's like having a sous-chef who's always on duty.
And don't get us started on voice-controlled gadgets. From fridges to faucets, everything obeys your command. It's nothing short of kitchen magic!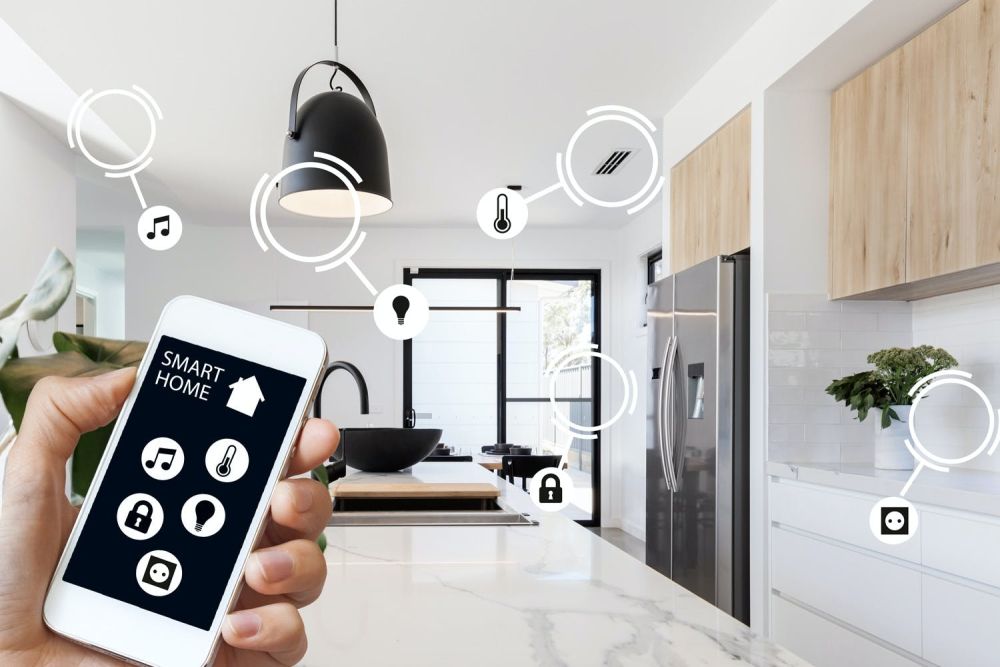 Monochrome Magic

Black and white, the timeless duo, has made a big comeback. Monochrome kitchens with their sleek lines and minimalist vibe are all the rage. Think black granite countertops, white cabinets, and a dash of stainless steel for that extra shine. It's a classic look with a modern twist!
Vibrant Color Pops

On the other side of the spectrum, we have kitchens that explode with color. Tired of the usual whites and grays? Say hello to bold cabinets, bright backsplashes, and colorful appliances. It's a feast for the eyes and a surefire way to inject some fun into your cooking routine.
The Not-So-Hot Kitchen Trends of 2023

Just as some trends ascend the throne, others fall from grace. Let's take a moment to bid adieu to the kitchen trends that are cooling down in 2023.
Farewell, Farmhouse Style

The rustic charm of farmhouse kitchens is losing its luster. The once-beloved barn doors, apron sinks, and shiplap are making way for sleeker, more contemporary styles. It was a good run, farmhouse style, but it's time to hang up the apron.
Bye-Bye, All-White Kitchens

The all-white kitchen, once the epitome of chic, is being phased out. Designers and homeowners are embracing the joys of color and texture. While white will always remain a classic, it's no longer the go-to choice for kitchens.
FAQs about Trending Kitchen Designs in 2023

What are the most popular kitchen colors for 2023?

The most popular kitchen colors for 2023 are bold and vibrant. Think blues, greens, and even pinks. Of course, classic monochrome kitchens are also in vogue.
Are open-plan kitchens still trendy in 2023?

Open-plan kitchens are evolving. While the idea of a kitchen-living space is still popular, people are seeking more defined zones within the open layout.
Is the kitchen island still a must-have in 2023?

Absolutely! The kitchen island remains a must-have in 2023, but with a twist. Welcome double islands, for twice the convenience and style. It's about adding more room for cooking, entertaining, and just being the heart of the home​​.
Wood Paneling for the Win

For those who love a touch of nature in their kitchen, the trend of wood paneling is a godsend. Whether it's on cabinets or ceilings, wood paneling brings a sense of warmth and connection to the outdoors. It's a fantastic way to add character and texture to your kitchen​​.
The Versatility of Butcher-Block Islands

Butcher-block islands are not just a beautiful addition to the kitchen; they're also incredibly functional. Made from durable materials like walnut, these islands provide extra storage space and keep your appliances hidden yet accessible. It's a perfect blend of style and utility​​.
Creative Cabinetry: A Bold Statement

2023 is the year of creative cabinetry. We're talking bold colors and unexpected patterns that make your kitchen pop. It's all about taking risks and creating a kitchen that truly reflects your personality. So, go ahead, choose that vibrant cabinet color you've always wanted. It's time to let your kitchen shine​​.

Conclusion

As we wrap up our exploration of "Trending Kitchen Designs in 2023: What's Hot and What's Not?", we hope you've found some inspiration for your own kitchen makeover. Whether you're a fan of the smart kitchen revolution or you're drawn to the warmth of wood paneling, there's a trend out there that's perfect for you. Remember, the best kitchen design is the one that makes you feel right at home. So, here's to creating a kitchen that's not just trendy, but also a reflection of you!